If you´ve watched a lot of movies trough the years you know the feeling when this one special dish comes to mind. Like the Crabby Patty from Sponge Bob – instant burger craving alert. If only someone could figure out the recipe for that delicious looking porridge from the Teletubbies this list would be complete.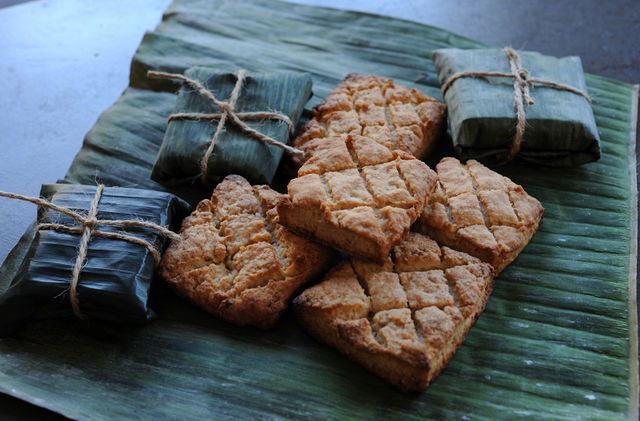 1. Lord of The Rings – Lembas Bread
What you'll need:
2 1/2 cups of flour
1 tablespoon of baking powder
1/2 teaspoon of salt
8 tablespoons of cold butter
1/3 cup of brown sugar
1 teaspoon of cinnamon
1/2 teaspoon honey
2/3 cup of heavy cream
1/2 teaspoon of vanilla
parchment paper
optional:
1 package frozen banana leaves
twine
Full recipe:
http://ally-jane.com/2014/10/11/lembas-bread-recipe/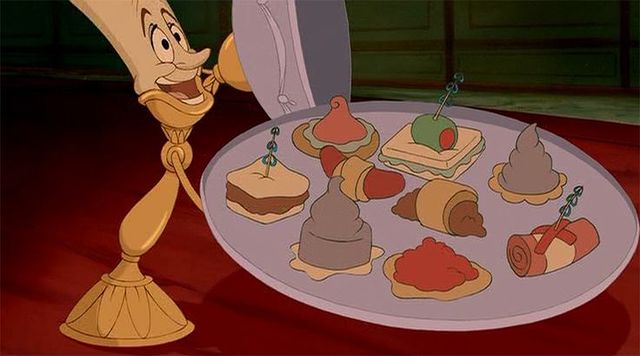 Beauty and the Beast – The Grey Stuff
What you'll need:
1.5 cups whole milk
1 package (3.4 oz.) Instant Vanilla Pudding Mix
1 tub (o oz.) Whipped Topping aka Cool Whip
3 tbsp Instant Chocolate Pudding Mix
15 Oreo cookies (regular)
Full recipe: http://www.thedisneydiner.com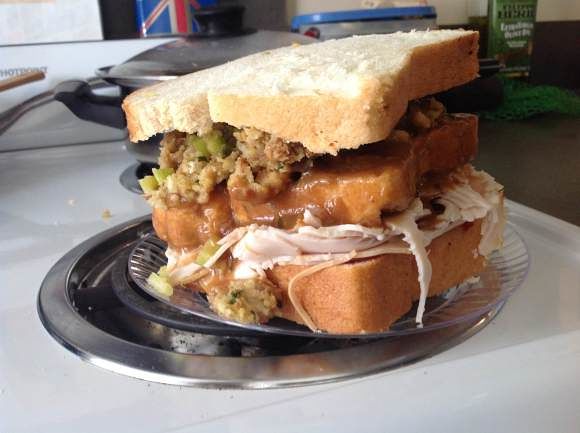 Friends – Moist Maker Sandwich (https://youtu.be/E2xi7B3mkr0)
What you'll need:
3 Slices of White Bread
1/2 c Leftover Gravy
Leftover Stuffing
Leftover Turkey
Cranberry Sauce
Spanglish – Sandwich A.K.A 'World's Greatest Sandwich'
What you'll need:
3 to 4 thick slices of Bacon
2 slices of Monterey Jack Cheese
2 Slices Pain de Compagne (Rustic Country Loaf), Toasted
1 Tbs mayonnaise
4 slices tomato
2 leaves butter lettuce
1 tsp butter
1 egg
V for Vendetta – Eggy in a basket
What you'll need:
1 slice sourdough, potato, or wheat bread
1 to 2 tablespoons unsalted butter
1 large egg
Salt and freshly ground black pepper
Full recipe:
http://www.foodnetwork.com/recipes/food-network-kitchens/egg-in-the-hole-recipe.html
Game of Thrones – Dothraki Blood Pie
What you'll need:
1 Simple pie dough recipe
2 garlic cloves, minced
1 small onion, minced
1/2 pound ground lamb
1/2 lb. blood sausage
1 tsp. Aleppo Pepper
1 tsp. cumin
Vegetable oil for frying
Full recipe:
http://www.innatthecrossroads.com/2012/06/28/dothraki-blood-pie/
Julie and Julia – Bruschetta
What you'll need:
A loaf of excellent bread (a rustic loaf with a crisp crust and hole-y interior is best)
Fresh tomatoes
Fresh basil
Garlic
Olive oil
Full recipe:
http://www.tastebook.com/recipes/3080934-Tomato-Bruschetta-from-Julie-and-Julia
Spongebob Square Pants – Krabby Patty
What you'll need:
1 1/2 pounds of peeled, deveined shrimp
1 egg
10-12 regular-sized or smaller hamburger buns
Lemon zest to taste
Old Bay seasoning
1 Tbsp of our favorite hot sauce
1 tsp celery seed
1 tsp garlic powder
1 tsp paprika
1 tsp salt
1 tsp black pepper
1 tsp cayenne pepper
Vegetable oil and/or butter for frying
Toppings
Butter lettuce
Thinly sliced tomato
Pickled onions
Tartar sauce
Cocktail sauce
Full recipe:
http://www.instructables.com/id/Krabby-Patty-Recipe/
Hook – Imagination Pie
What you'll need:
1 Crust Recipe
Crème filling:
6 egg yolks, room temperature
6 tablespoons sugar
2 cups whipping cream
1 cup sour cream
1 teaspoon vanilla
4 tablespoons (57 g) unsalted butter, cut into pieces, room temperature
Purple food coloring
For the whipped cream topping:
3 cups heavy cream, cold
8 tablespoons honey
Red, Blue & Green food coloring
Full recipe:
http://thedessertstomach.com/2013/03/11/imagination-pie/
Original posted at Imgur.
(Visited 35 times, 1 visits today)